The #3 Rated Gout Product: Flamasil
Flamasil - #3
Gout Product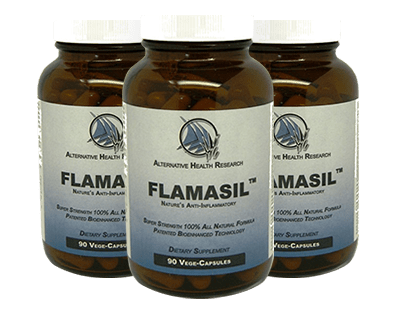 Supplement Facts
Servings Size: 3 Vege-Capsules
Servings Per Container: 30
Amount Per Serving
%DV
Yucca Powder
525mg
*
Aged Garlic Powder
300mg
*
Milk Thistle Extract (80% Silymarin)
225mg
*
Tumeric Extract (BCM-95®)
150mg
*
Artichoke Extract
300mg
*
OPC (grape seed extract)
50mg
*
OPC (pine bark extract)
50mg
*
Boron (as citrate)
3mg
*
Tart Cherry Extract (25:1, std. to 5% flavonoid)
300mg
*
Banaba Leaf Extract (12:1)
225mg
*
Resveratrol Extract (25%)
45mg
*
Boswelia Extract (25%)
75mg
*
Gut-Buddies®** Probiotic
2 billion cfu
*
*Daily Value (DV) not established
Other Ingredients: Hypromellose, ascorbic acid, magnesium stearate, silicon dioxide, corn derivatives and vegetable lipids.
Contains trace amounts of soy and milk.
Flamasil claims to offer relief from pain and inflammation, provide nutritional support to the body as well as curve an accelerated aging process.*
EDITOR'S RATING
31 User Reviews
Introduction
This is a review of Flamasil. This product claims to offer relief from the symptoms of gout, which can include pain and inflammation.* It is said to provide nutritional support to the body in order to keep it healthy and promote a positive sense of well-being against gout as well as curve an accelerated aging process.* Flamasil contains many natural ingredients to help ease the symptoms of gout. Flamasil also contains ingredients that are designed to compensate for the essential vitamins not present in low-purine diets. If you are wondering if this particular gout product is right for you, please keep reading this review.
Ingredients
Yucca

Aged Garlic

Milk Thistle Extract

Turmeric

Artichoke Extract

Grape Seed Extract

Pine Bark Extract

Boron Citrate

GutBudies

Tart Cherry Extract

Resveratrol Extract

Banaba Leaf Extract

Boswellia Extract
Dosage
One bottle of Flamasil contains 90 capsules, which is enough for 30 servings, as the manufacturer recommends that adults take one capsule three times a day with meals. If your weight is over 175lbs, take one capsule four times a day. Adequate water consumption is recommended along with this product.
Possible Side Effects
In the beginning, users may suffer from upset stomachs or gastric discomfort, but this will subside in a few days.
Price
Flamasil can be purchased in one or three month supplies. A bottle containing 90 capsules is good for one month, costs $42.95. A three month's supply package is $105. Even with bulk discounts, this product is a bit expensive when compared with similar products made by other manufacturers.
Guarantee
The manufacturer offers a full money back guarantee for all customers who are not completely satisfied with the performance of this product. However, there is a catch. A guarantee is only provided for those that buy a 90-day supply (which is three bottles). Consumers are instructed to take the product for 90 days. After that, consumers can request their money back but only on the unopened bottles that they have purchased for a full refund of the price paid per bottle, minus the shipping and handling. All returns are subject to a 20% restocking fee. Reviews are pretty mixed when it comes to this product. Some individuals state that it has been really efficient in addressing their gout, but some express dissatisfaction because the product did not produce the expected results.
Conclusion
While Flamasil is an all-natural product derived from herbs that are linked to the successful management of gout, there are many other similar supplements containing these ingredients that are priced lower and also come with a better guarantee with no restocking fees and strings attached. Customers can easily find a cheaper substitute to Flamasil without compromising on effectiveness. Feedback seems to be mixed for this product, which did not help its ranking. This would need a few enhancements to get a higher position from our review board.
Click here to learn about our Top Gout Treatment products.
Alex Harfield
reviewed on and gave it a rating of
3
.